A FEAST FOR ODIN INSERT - FOLDED SPACE
Note: Insert designed for game with external box dimensions of 31.2 x 22.4 x 11.7 cm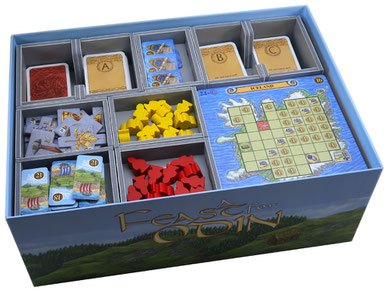 Insert compatible with A Feast for Odin ®, and the Lofoten, Orkney, and Tierra del Fuego mini-expansion®. The design provides both efficient storage and improved game play. Many of the trays can be utilised during the game, and they greatly aid set-up and clear-away times. There is space for all cards to be sleeved.
The insert is designed to use the black plastic trays that come with the game, providing storage for the remaining game components. Here you can see the top layer of trays, with the square island board tiles in the lower right corner acting as a lid on the trays underneath. There is space provided for the two island tiles from the expansion.
---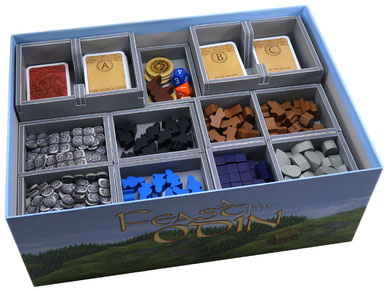 With the top layer and island tiles removed you can see the remaining trays underneath. Please see images below for info on how the remaining game boards and tiles are stacked underneath this tray layer.
---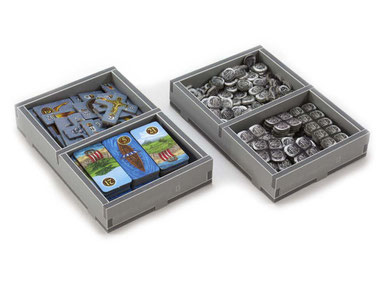 These trays store the coins from the game, splitting the large and small denominations in two sections. The other tray is for storage of the special tiles and the long-ship and knarr tiles.
---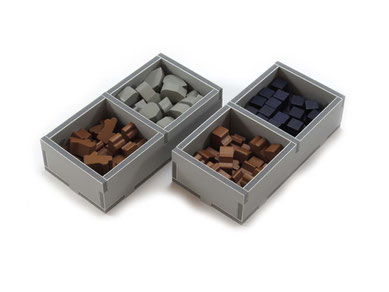 There are two trays for the wooden resource pieces. The wood tokens split into two separate slots.
---
The card trays provide space for all cards to be sleeved. There are separate slots for each of the A, B & C occupation decks, and also for the weapon cards.
---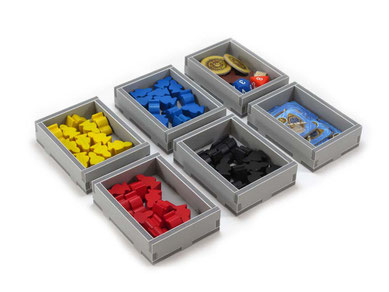 There are four trays for the player pieces, meaning each player can take their tray to use during the game. The other two smaller trays are for the whaling boats and other tokens.
---
To get everything to fit neatly a little care is needed in packing the box underneath the insert. When packing the box, the plastic trays go first, together with the building tiles and mountain strips on the right stacked vertically. Next goes the action board and extension tiles, together with the remaining mountain strips.
---
Then the rules go on top. The insert trays are on top of the rules, as this gives a nice flat surface for them to sit on. The next layer is the grey card sheet that comes with the game and the player boards, acting as a lid on the trays. The final layer is the round overview board, the score-sheets, and the supply board. The stacking is simple, and comes easily after you have done it a few times.