WAR OF THE RING INSERT - FOLDED SPACE
Insert compatible with War of the Ring®: Second Edition, and the Lords of Middle-Earth®, and Warriors of Middle-Earth® expansions. The design provides both efficient storage and improved game play. Many of the trays can be utilised during the game, and they greatly aid set-up and clear-away times. The board and rule books act as a lid on top of the trays.
The insert is arranged in up to three layers, with a large card tray at one end of the box.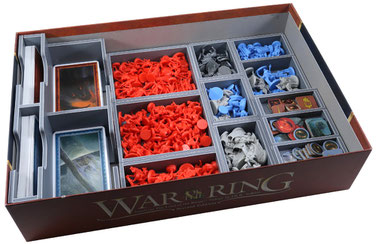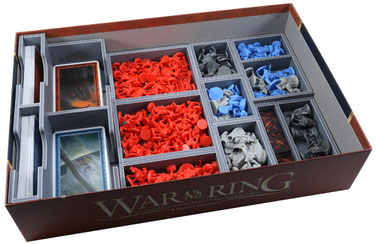 ---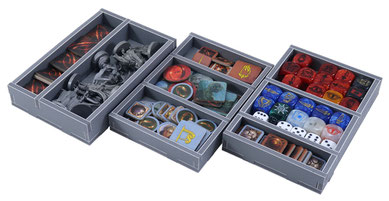 These are the token and dice trays. The first tray shown is for the hunt tiles and minion & shadow character figures. The main token tray is in the middle. And the third tray is for the game dice and the settlement control markers.
---
All the types of plastic figures have their own dedicated trays, with divisions by type where possible. All these trays can be used during game play to keep the table top tidy.
---
This is the large card tray that goes at one end of the box. The tray has space for all cards to be sleeved. The tray can either be left in the game box or removed to store cards on the table top.
---
Once the insert trays are packed into the box you need to next place the two game boards on top of the trays. These are followed by the rule books, with the large reference cards added as shown. Once fully loaded the box is filled to the top, allowing for vertical storage.
Priporočena starost
Priporočena starost
12+
Število igralcev
Število igralcev
1 - 6
Čas igranja
Čas igranja
do 150 minut